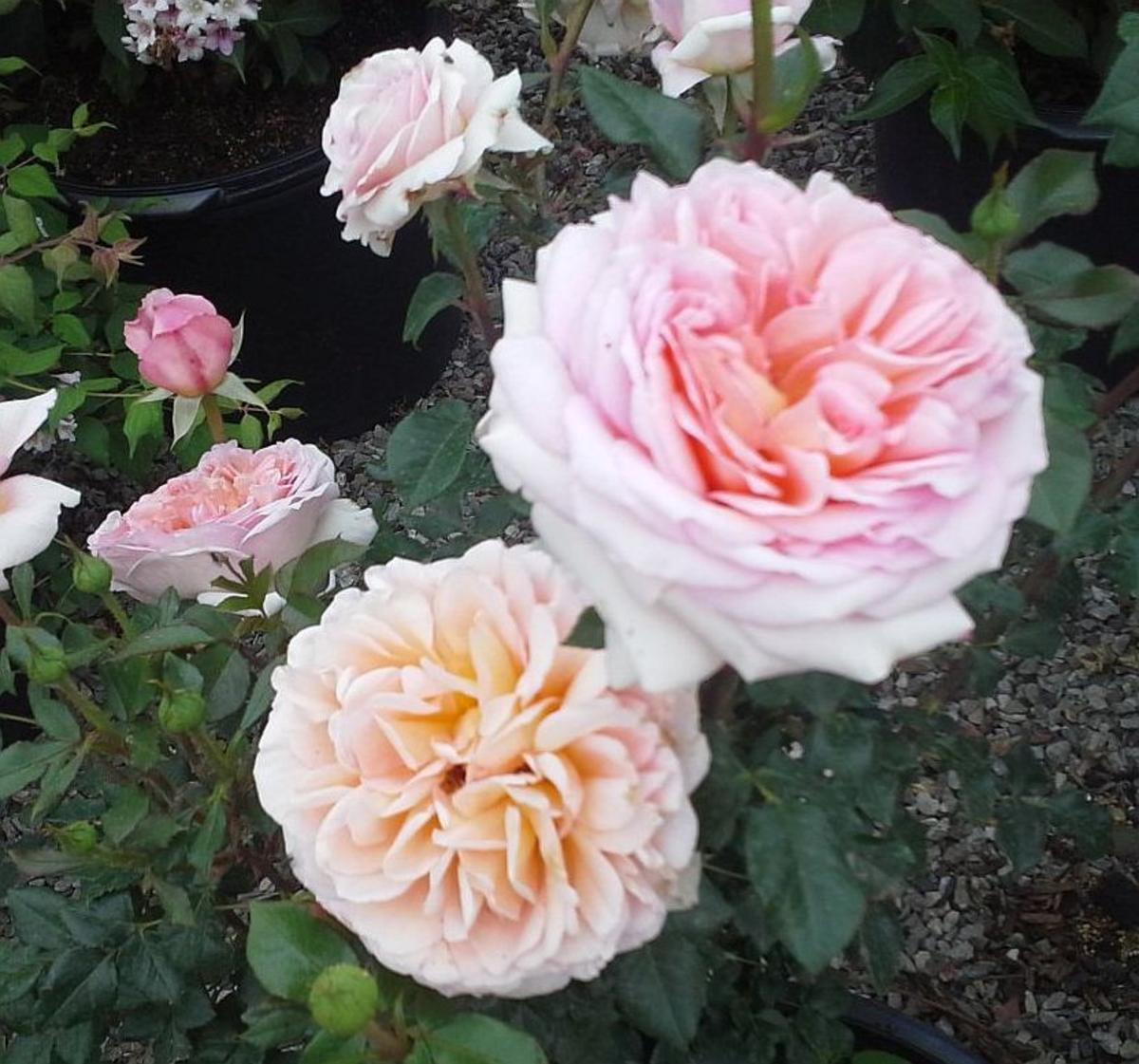 Roses offer some of the most beautiful and longest lasting flower shows in the garden, with repeated (recurring) blossoms continuing to appear on the plants until well into the late fall.
While there is a confusing array of names to describe them (Grandiflora, Teas, Shrubs, etc.) there really is only two types to remember: Roses that require winter protection, and those that don't.
Now, those that do are STILL popular despite the additional work they entail largely because they generally produce the largest and most fragrant of blossoms. Their blossoms are what you are likely to receive when you buy roses from the florist. While not quite a bud rose, the Abraham Darby Austin English shrub rose (shown above) has a scent that is just heavenly!
Those that 'don't' can be used in the garden just like any other flowering shrub. If you would think to use a Weigela, you most likely could also use a shrub rose, as their requirements are very similar. They like as much sun as possible, on well-drained locations, and like the 'Queen' of the garden that they are... they like the best of everything (rich soil, ample moisture, regular feeding).

Coral Drift Rose
Over the last number of years great strides have been made in plant breeding to try to alleviate the most common scourge of roses grown in humid conditions like Southern Ontario - black spot and mildew diseases. Whether it is from Proven Winners, Drift, Knockout, Flower Carpet, Vigorosa or Easy Elegance.. all offer resistance unlike anything seen previously. Additionally, there is a tremendous variety of sizes, colours and combinations that can be made with them too.

Sweet Fragrance Easy Elegance Rose
Roses like those shown here are mostly grown on their own root. This means that they are exceptionally winter hardy and do not require any unusual care to maintain them looking great from year to year.

High Voltage Easy Elegance Rose
But what about insects? Yes.. it's true that these beauties can attract their admirers from the insect world too. Aphids, caterpillars, and even Japanese Beetle (although not that common yet in the K-W area) have been known to munch on leaves or suck on the buds. For most of these issues there exist control measures (in various degrees of strength of purpose) that can be used if necessary. If this isn't your nature, then roses in the long run might not be your cup of tea (although it should be noted that many of these pests affect other garden plants outside of roses too).
No matter what, a walk through the heady blossoms shown is a great way to spend a sunny summer outing.