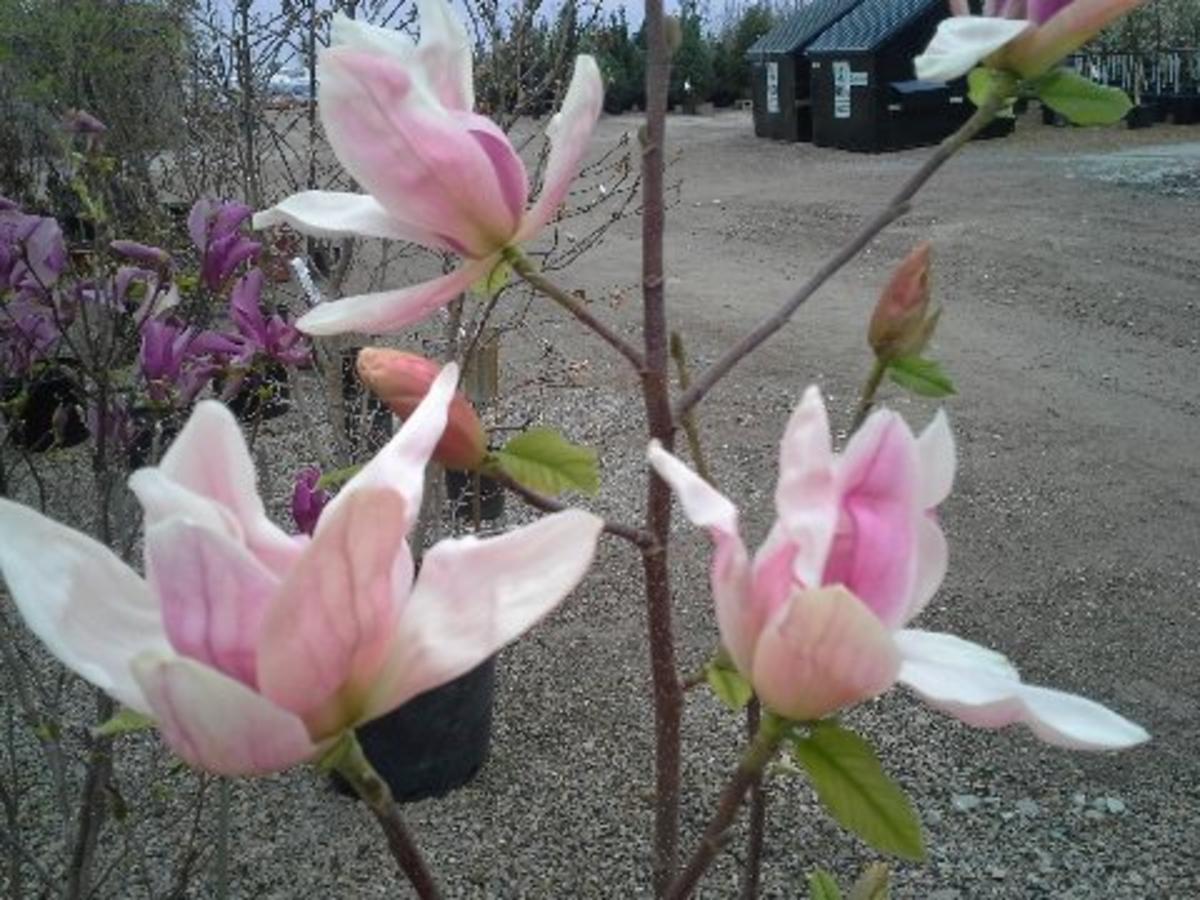 Spring has sprung.. and the Victoria Day Long Weekend is right around the corner.
Today is a pretty cool morning, and it gives one pause as to whether to plant your tender annuals, vegetable plants, and the like. It's a bit early for many things like peppers, tomatoes, basil, impatiens and such... but there are still folks who 'chance it' because they of the fact that it's a holiday, rather than prudent, for planting these things. The official last frost free day is usually May 24th, and we are still a goodly distance away from that yet still.
There are lots of beautiful plants blooming right now, and when folks wonder how everyone here can work such long hours .. well - there are lots of beautiful perks here to see to help keep us motivated. Of course, the gallons of coffee we consume also helps.
The picture at top is of Daybreak Magnolia - and the fragrance is quite something too. This one last tree is just stunning...
This dwarf growing (18" tall) Pink Elf hydrangea usually blooms later in the summer, but this crop was looking so good we had to show it off.
This is a somewhat unusual plant called Double Bridal Wreath Spirea. In fact it was the 'true' bridal wreath spirea originally (as it is easy to see that the flowers here would make for a stunning bouquet for a pioneer bride) but this name was later 'stolen' by Spirea Van Houttei' (which is now what is commonly known as Bridalwreath Spirea. Each blossom on this 'Double' variety is almost like a very large Babys Breath blossom.
These are the blossoms on Snow Day Surprise Pearl Bush. Pearl bushes are not that new (they get their name from the shape and colour of the blossoms before they open, which you can see in the picture) but this one from the Proven Winners breeders is noted for a more compact habit, larger blooms, and less 'rangy' growth. This plant blooms in early spring.
The latest trend in pansies is 'frilly', and these scented beauties also come in 'Grobe Orange'.
Finally, the last of our Japanese maple varieties have arrived, including the stunning gold leaves on this Full Moon Japanese Maple. This tree grows painfully slowly, and to see it in such a display is truly amazing.